Another Error Exposed Prompts More Bile From Luskin
An update on Krugman-stalker Luskin's
"critique"
of the 1982 Krugman-Summers memo on inflation.
Brad DeLong catches Luskin in
another egregious error
, writing "what Luskin has plotted here is not the real exchange rate: the U.S. real exchange rate did not change by a factor of three between 1973 and 1988. I suspect that what Luskin has done has been to divide a nominal exchange rate series by the home country's price level, rather than by the ratio of the home to the foreign price level, and thus created a series that is essentially meaningless."
Luskin's response?
He admits to using the meaningless series. He offers a bunch of cheap shots aimed at DeLong, flings some more insults at Bobby of the
Paul Krugman Archive
, and blathers on for many many words. But he doesn't even both to claim that he's plotted anything other than a "meaningless series," much less make an argument that he's plotted something meaningful.
So of the three series Luskin plotted, two were simply wrong (I discussed his use of the wrong inflation series in an earlier post). Luskin just isn't capable of looking up the right data, or, apparently, of admitting his errors.
He does draw pretty graphs though. Here's Luskin's original graph: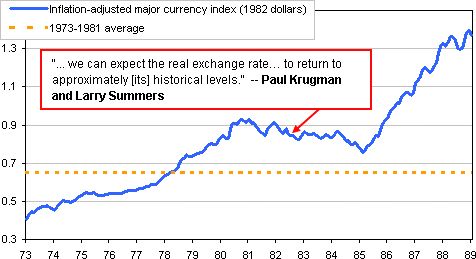 [Hosted by Hello]
And here's the corrected one (just a wee bit different):
[Hosted by Hello]
|